Creating Connection to Find Your Authentic Self with Tatiana Poliakova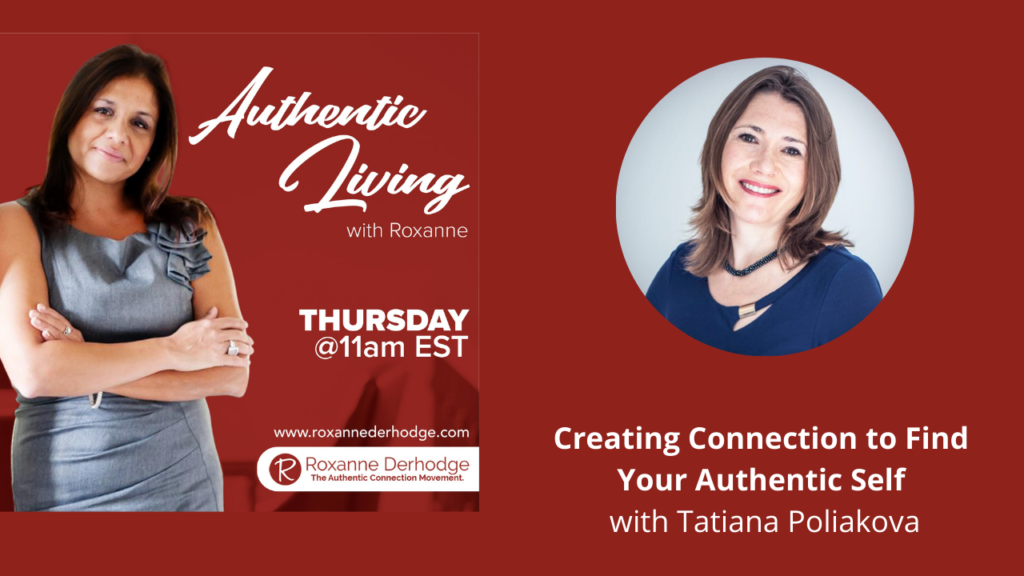 Quote: "The more I progressed on my journey, the more I realized that those skills that I described at the time as "soft skills" are the most important skills in life."  Tatiana Poliakova
Are you doing what you're meant to be doing in business?  Are you where you want to be in life?  If you are, you are very fortunate and should be commended.  Many of us find ourselves wondering if we should be changing careers, making big life changes, searching for a more content way of being.  On this episode of Authentic Living with Roxanne, we welcome Tatiana Poliakova who made her way from a very successful corporate job to finding her passion and authentic self in coaching. 
Tatiana is an accredited Executive and team coach,  with extensive international leadership experience.  She worked for 20+ years as an Investment Banker and Management Consultant in NYC, London and Frankfurt. She left the city, whilst a Managing Director at Nomura. Tatiana helps powerful people to look beyond their fears to make an impact in the world they desire and to move from SuccessEmpty to SuccessFull. 
Listen to the podcast here:
Creating Connection to Find Your Authentic Self
Authentic Touch Points:
Growing up behind the Iron Curtain.  2:00
Living up to expectations.  7:30
The perception of perfection.  15:00
The path to leadership.  20:00
Why soft skills are so important.  28:30
Creating your sense of belonging.  34:30
Small changes to make your shift.  41:30
Tips to align your SELF.  46:00  
Tatiana's approach is anchored in Compassionate Leadership, Inside Out approach and systemic coaching. Tatiana is a Trustee on the SmileTrain UK board, a charity putting smiles on children's faces with cleft palates around the world. Tatiana is inspired to support her clients on their journeys to unlocking their full potential and growing in their personal leadership style while creating a balanced life. Her approach is anchored in the Compassionate Leadership practice and leading from the inside out to help you find your authentic self.  
With many of us working from home and feeling the pressure of the pandemic, I encourage you to reach out with thoughts or questions about your own self-awareness and creating a healthier mindset.
I have created a new live coaching program to help you Create Healthier and More Authentic Relationships in your life and get more connected to your authentic self.  Click here to contact me at your convenience or click here to book a complimentary call with me.  
Stay Authentic,
Roxanne
Links:
Tatiana's website
AdaptAA
Tatiana's LinkedIn profile
Roxanne's email: roxanne@roxannederhodge.com
Book a complementary Call with Roxanne
Roxanne's previous podcasts