Authentic Heart Leadership with Dr. Ron Stotts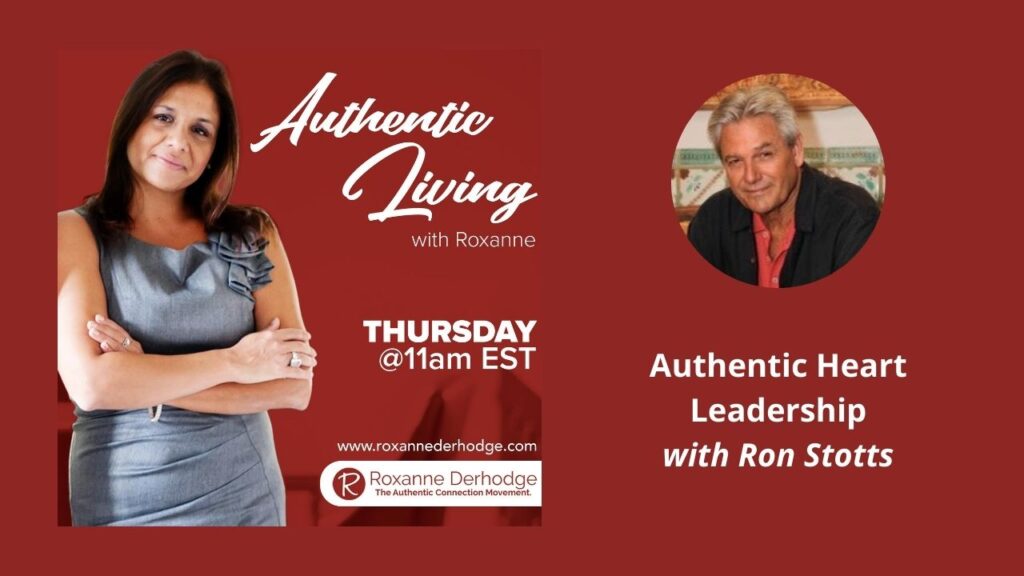 Authentic Heart Leadership Quote: "I watch people talk about their work-life or their family life or their health life. I think, right there, you have a problem because there's really only one life, and it's your life." Dr. Ron Stotts
How connected are you to yourself and the understanding of why you lead the way you do? Do you feel like you have a good relationship with your team? Do you have a great relationship with yourself and love who you are? On this episode of Authentic Living with Roxanne, we are thrilled to welcome Mindfulness Expert Dr. Ron Stotts to share his vast knowledge about creating a better relationship with ourselves and, in turn, everyone around us.
After getting a Ph.D. in Psychology and a Doctorate in Chiropractic, Dr. Ron discovered that the biggest challenge business leaders face today is looking outside for what can only be found within. With several decades of experience, Dr. Ron has made it his mission to lead entrepreneurs on a transformational inner journey into the highest levels of conscious leadership. Dr. Ron has helped thousands of entrepreneurs, CEOs, and top executives from organizations such as AT&T, The Indianapolis Colts, and Lucas Films.
Watch the video here: Authentic Heart Leadership with Ron Stotts
Listen to the podcast here: Authentic Heart Leadership with Ron Stotts
Authentic Touch Points:
Dr. Ron's path to transformational leadership. 1:30
Finding conscious intention. 7:30
We, instead of I. 12:30
Happy people create happy environments. 18:30
Kindness trickles down. 21:30
Making a transformation. 25.00
Back to the basics. 30:00
Transformational training. 36:00
Dr. Ron is a three-time best-selling author and has spoken on stages throughout Europe and the United States. He regularly shares his expertise with his 14k social media followers and on numerous conscious leadership podcasts. He helps business leaders think like Einstein and create like Michelangelo, developing truly conscious business environments that are vastly more profitable and sustainable for all.
As we move toward reopening workspaces and gathering again, I encourage leaders to reach out for guidance about presenting their authentic self to develop an improved workplace for everyone with less conflict as I offer executive coaching.   Click here to contact me at your convenience, or click here to Chat with Roxanne!
Take our online quiz to rate your authenticity as a leader!
Stay Authentic,
Roxanne
Links:
Dr. Ron's website: https://ronstotts.com/
FREE starters: https://ronstotts.com/free-starters/
Dr. Ron's LinkedIn profile: https://www.linkedin.com/in/dr-ron-stotts-14143236/
Roxanne's LinkedIn profile: https://www.linkedin.com/in/roxannederhodge/ 
Roxanne's email: roxanne@roxannederhodge.com
Chat with Roxanne: https://roxannederhodge.com/chat/ 
Roxanne's previous podcasts: https://roxannederhodge.com/blog/