Thriving, Not Just Surviving Through Crisis with Patti Kay Hanrath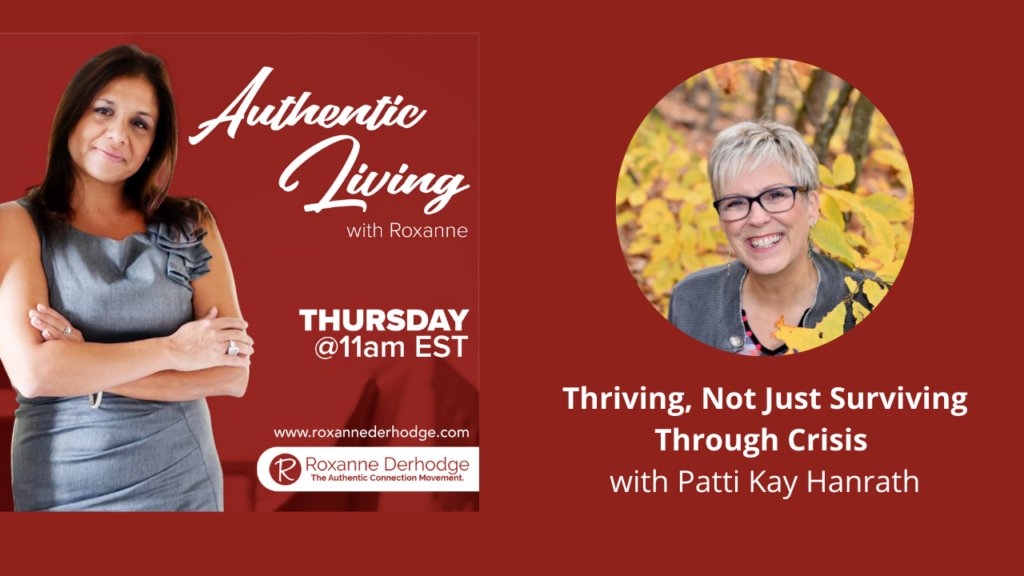 Quote: "What if we could fill our cup so full that it was overflowing, and we could give from the overflow?  We would never be giving from depletion." Patti Kay Hanrath
Everyone handles a crisis or difficult times differently, but some find the strength and wherewithal to push through without losing themselves in the mess.  On this episode of Authentic Living with Roxanne, we welcome Patti Kay Hanrath to share her story of how she decided to not just survive a crisis, but to thrive when she learned her husband was afflicted with Early Onset Alzheimers. Listen and learn how to thrive when you're in crisis!
Patti, Founder of Kinergy Leadership, is an outgoing and enthusiastic Personal Success Coach.  At the heart of her business, she supports Professional Women to Grow Through What They're Going Through to Live Life Fully and Boldly.   She is a passionate, caring coach and strategic thinking partner for small business owners and women in leadership. Patti enjoyed a successful career managing customer service teams for over 20 years in the financial industry before discovering her true passion for helping others in their journey of transformation.  
Listen to the podcast here:
Thriving, Not Just Surviving Through Crisis
Authentic Touch Points:
Patti's path from banking to leadership coaching.  2:00
The ongoing grieving process.  5:30
Relishing the small things.  11:15
When the coach needs a coach.  18:00
Messy times behind the scenes.  25:00
Never compare our journey to someone else's. 31:30
The culturalization of women.  33:30
Words of encouragement.  38:00
Patti has been personally mentored and trained by some of the masters in the personal development industry, most notable of which is the world's leadership expert, John C. Maxwell. Patti always continues to learn and up level and is currently studying her NeuroCoaching Certification™ to further support her clients with more lasting transformation.
When Patti is not coaching and training, she enjoys time with family and friends, in the great outdoors, reading, watching movies and doting on her 4 Grandies.
If you're going through your own crisis or feeling the pressure of the pandemic, I encourage you to reach out with thoughts or questions about improving your own self-awareness and creating a healthier mindset through connection. 
I have created a new live coaching program to help you Create Healthier and More Authentic Relationships in your life and get more connected to your authentic self.  Click here to contact me at your convenience or click here to book a complimentary call with me.  
Roxanne
Links:
Patti's website
Patti's Summit
Patti's email: patti@kinergyleadership.com
Roxanne's email: roxanne@roxannederhodge.com
Book a complementary Call with Roxanne
Roxanne's previous podcasts