Creating a Culture of Resilience and Trust with Linda Fisk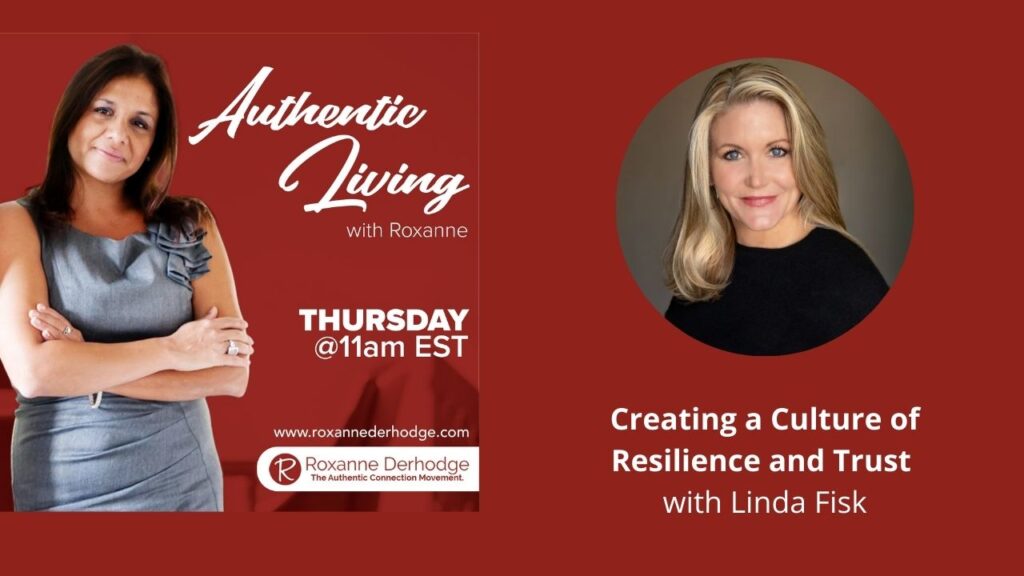 Resilience and Trust Quote: "No partnership is going to be free from bumps in the road.  Trust and familiarity are the cornerstones to any partnership that are built up over time."  Linda Fisk
To achieve a long-term objective, you must have sense of tenacity. Having a sense of resilience and self-control in the pursuit of goals that take time is critical, but it needs to be combined with a sense of grace. You must also understand your limitations and your failures. Carefully examining your past is essential to knowing your value. On this episode of Authentic Living with Roxanne we welcome Leadership Expert Linda Fisk to discuss living your purpose successfully, and how she believes you have to incorporate both grit and grace.
Linda is a multi-award-winning leader, keynote speaker, author and university professor dedicated to amplifying and extending the success of other high-caliber business leaders. She is the Founder and CEO of LeadHERship Global, a community of unstoppable women enhancing their leadership blueprint and embracing their power to be the best version of themselves- in work and life. 
Listen to the podcast here: Creating a Culture of Resilience and Trust with Linda Fisk
Authentic Touch Points:
Linda's authentic journey.  2:00
Achieving greatness with mental grit.  5:00
Creating our own success.  9:00
Leading together from a place of service.  15:30
The power of partnership.  21:00
Be sure your values align.  25:00
Clarity is essential in a successful partnership.  29:30
Challenges we're facing today.  31:30
In LeadHERship Global, Linda supports and guides ambitious, creative women to move in the direction of their purpose, their mission and their dreams with powerful connections, critical support, practical tools and valuable resources to show up, speak up and step up in their careers and personal lives.
As we move toward reopening workspaces and gathering again, I encourage leaders to reach out for guidance about presenting their authentic self to develop an improved workplace for everyone with less conflict as I offer executive coaching. Click here to contact me at your convenience or click here to Chat with Roxanne!
Stay Authentic,
Roxanne
Links:
Linda's website
Linda's LinkedIn profile
Roxanne's LinkedIn profile
Roxanne's email: roxanne@roxannederhodge.com
Chat with Roxanne
Roxanne's previous podcasts