Learn to Maximize Your Leadership Performance with Betska K-Burr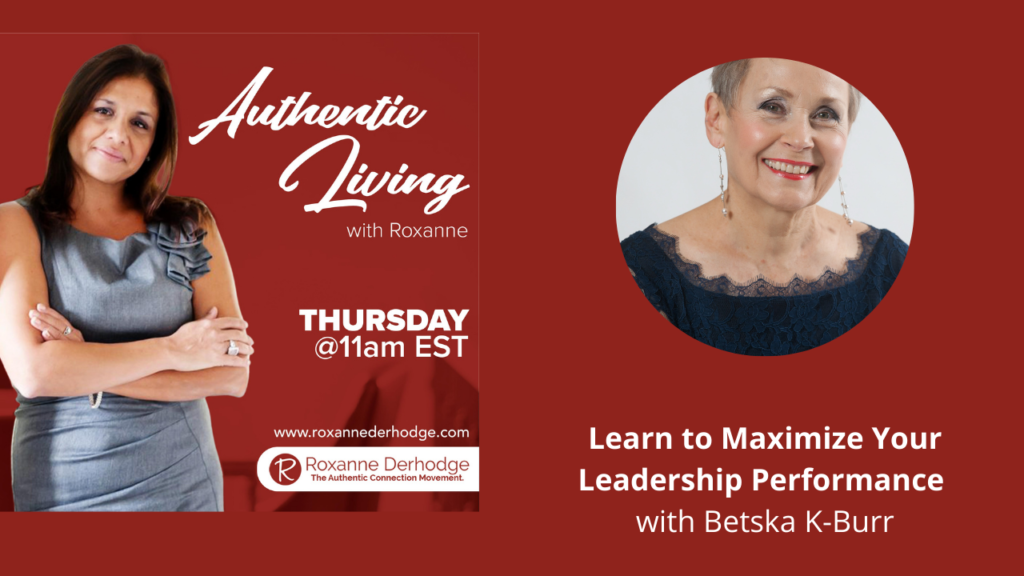 Being a present and effective leader is challenging at the best of times, but the past year has presented obstacles that we could never have imagined we would be facing. On this episode of Authentic Living with Roxanne, we welcome Betska K-Burr to discuss why you should reach into your subconscious to turn your unconstructive thoughts into permanent positive thoughts.
Betska is Co-President at Coaching and Leadership International Inc.  Having developed 80+ award-winning coaching methodologies which enrich a Leader's competencies and bring peace into their life, she leads the Instructor Team at the CLI school where Leaders learn a profound coaching skillset.  Betska is an industry pioneer in the development of Whole Brain Mind Coaching methods which generate high level ROI – a very rewarding return on investment.
Listen to the podcast here:
Learn to Maximize Your Leadership Performance with Betska K-Burr
Authentic Touch Points:
What is Mind Kinetics?  3:00
Betska's path to coaching.  5:30
Seeking answers in the subconscious.  17:00
The hidden messages that we carry.  20:00
Elements of the boardroom.  25:45
The "Mirror Law".  34:00
Currently, the biggest struggle in the workplace.  36:00
Tips for creating real change.  41:00 
Affectionately called The Guru Coach® by her students and clients, Betska is a Canadian best-selling author of many books including Creating Champions, Flying by the Seat of Your … Plans, Build a Boooooooming Business and The "God" in Coaching – The Key to a Happy Life. As former International Head of Accreditation for a global governing body in the coaching industry, Betska led the team who assessed Coaches around the world on their coaching skills.
With many of us working from home and feeling the pressure of the pandemic, I encourage you to reach out with thoughts or questions about your own self-awareness and creating a healthier mindset.
I have created a new live coaching program to help you Create Healthier and More Authentic Relationships in your life.  Click here to contact me at your convenience or click here to book a complimentary call with me.  
Stay Authentic,
Roxanne
Links:
Betska's website
Betska's books
For complimentary coaching, reach out to Betska by email:  betska@coachingandleadership.com
Andropause
Roxanne's email: roxanne@roxannederhodge.com
Book a complementary Call with Roxanne
Roxanne's previous podcasts