Communication, Competency and Trust Equals Effective Leadership with Kemi Ogunkoya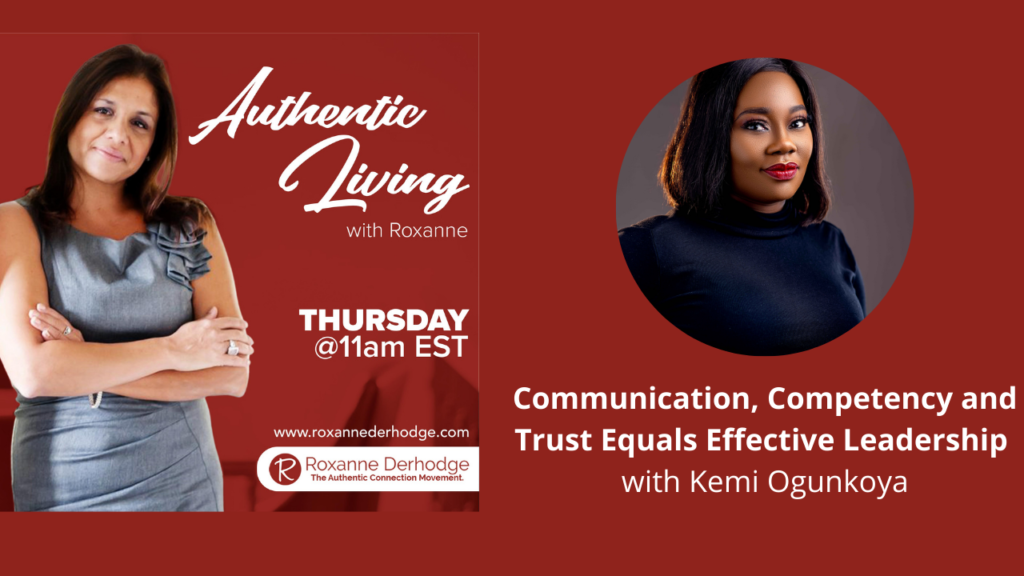 Quote: "For me to believe what you are saying as a leader, I need to know and trust that you will hold yourself accountable for your actions and inactions."  Kemi Ogunkoya
What does it take to be an effective leader?  The answer to this question has changed a great deal since the onset of COVID.  Now that we are seeing things starting to open back up and people returning to the workplace, it's imperative to have effective leadership.  The past 18 months have taught us so much about what's important.  Whether at home or work, we all need to feel a connection with those around us.  On this episode of Authentic Living with Roxanne, we welcome Kemi Ogunkoya to share her thoughts on what it takes to be a successful leader.
Kemi is a renowned Leadership Development Strategist, Management Consultant, and author. For close to a decade, she has conducted and facilitated high-impact leadership development workshops across, Africa, North America, and Asia. She is an alumna of The Said Business School, University of Oxford, and a member of The Forbes Business Council.  She is a Certified Management Consultant, and a Masters Neuro-Linguistics Programming Practitioner certified by the INLP Centre in California, USA. She holds a Bachelor's Degree in Education & Economics from the University of Ibadan and has an MBA in Management Consultancy from the University of Wales, Cardiff UK.
Listen to the podcast here:
Communication, Competency and Trust Equals Effective Leadership with Kemi Ogunkoya
Authentic Touch Points:
Kemi's path to leadership coaching.  2:00
Possible blocks in effective leadership.  4:00
The dancefloor and the balcony.  7:00
Competence vs trust.  12:30
Is trust essential?  18:00
Post-COVID leadership support.  21:30
Leaders need compassion now too.  25:30
Kemi prides herself in the ability to help corporate organizations enjoy seamless and effective leadership transitions and executive onboarding to eliminate deficiencies that invariably minimize their costs and let them focus on growth. She is the originator of "The Dozen Model" for raising visionary leaders, a model that has been adopted by numerous corporate organizations and political structures for effective leadership development. She is the Founder of Rellies Works, a leadership consultancy firm; Chairman board of trustees of The PowerWoman Network and The Lead Africa Now Initiative. She is the author of The Leadership Guardian, Goal Mastery Book, and Magical Pills. 
With many of us working from home and feeling the pressure of the pandemic, I encourage you to reach out with thoughts or questions about your own self-awareness and creating a healthier mindset through connection.
I have created a new live coaching program to help you Create Healthier and More Authentic Relationships in your life and get more connected to your authentic self. Click here to contact me at your convenience or click here to book a complimentary call with me.
Stay Authentic,
Roxanne
Links:
Kemi's website
Kemi's books
Kemi's LinkedIn profile
Roxanne's email: roxanne@roxannederhodge.com
Book a complementary Call with Roxanne
Roxanne's previous podcasts