The Power of Authentic Communication to Resolve Conflict in Teams with Charmaine Hammond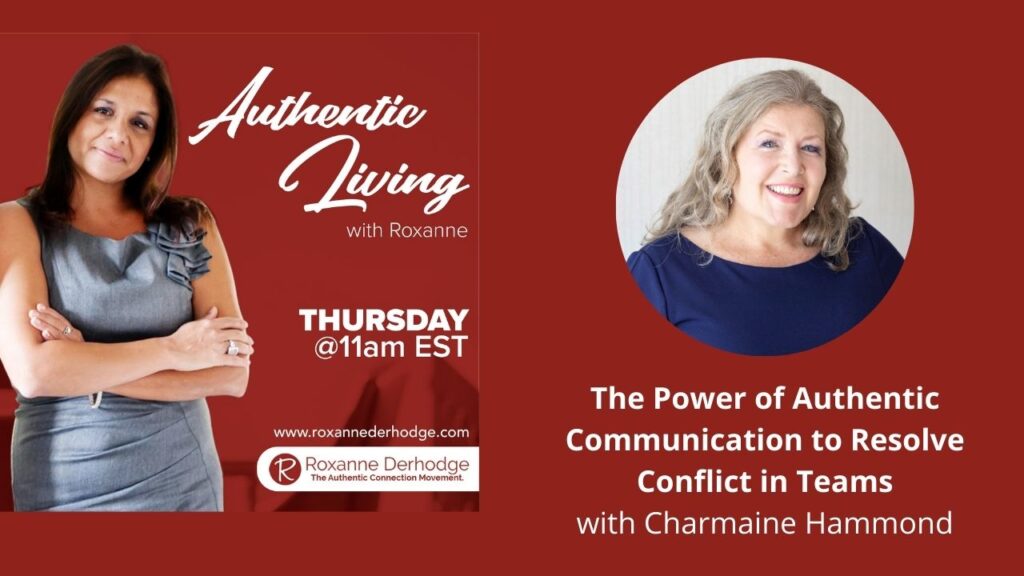 Authentic Communication Quote: "If conflict seems to be happening, you'll be so well served and so will the people experiencing this if it's addressed early on."  Charmaine Hammond
Creating an atmosphere of trust and authenticity for your team is never an easy task, but it's especially difficult now in these unprecedented times.  With virtual workspaces and the uncertainty as to what the future of many businesses and workplaces will look like as we move toward "returning to work", leaders have to work harder than ever to facilitate effective communication and resolve conflict in their teams whether it's online or in person.  On this episode of Authentic Living with Roxanne, we welcome Conflict Management Expert, Charmaine Hammond to share ideas on how leaders can create a respectful and peaceful work environment through authentic communication.
Charmaine is a Certified Speaking Professional (1 of 1200 speakers in the world to hold this designation) is a highly sought-after business keynote and workshop speaker, entrepreneur, author and educator who teaches and advocates the importance of developing trust, healthy relationships and collaboration in the workplace. She helps her clients build resilient and engaged workplaces, develop high trust/high accountability relationships, and solve workplace issues and conflict that gets in the way of success and profitability. She is respected as a "no fluff" and "rich content" speaker who delivers tangible tools to step into action immediately. 
Listen to the podcast here:
The Power of Authentic Communication to Resolve Conflict in Teams with Charmaine Hammond
Authentic Touch Points:
Charmaine's journey from correctional officer to speaker/trainer.  2:00
Establishing trust in the jail system.  4:00
Mediation, conflict, and authentic communication.  7:30
Overcoming unresolved issues virtually and in person.  11:30
Returning to the office and regaining trust.  17:00
Restoring psychological safety.  21:00
Back Home Again – healing from disaster.  24:30
We're all together in this shared crisis.  29:00
The ongoing trauma of COVID.  32:00 
Passionate about helping people build resilience, Charmaine draws on a near-death sailboat accident, many near misses as a Correctional Officer, and most recently surviving a stage 3 breast cancer diagnosis in 2018. Charmaine says that her passion projects over the years have carried her through tough times.  Her work as an Executive Producer of the Back Home Again film project was her beacon of light, hope and inspiration while going through surgeries and chemo in 2018. The movie will be released in fall 2021 and features an all-star cast including Jeremy Renner, Catherine O'Hara, Howie Mandel, Michael J. Fox, Mena Suvari, Martin Short, Tantoo Cardinal to name a few.
As we move toward reopening workspaces and gathering again, I encourage leaders to reach out for guidance about developing an authentic and improved workplace for everyone with less conflict. Click here to contact me at your convenience or click here to book a complimentary call with me.
Stay Authentic,  
Roxanne
Links:
Charmaine's website
Charmaine's Conflict Blogs
Back Home Again – The Movie
Roxanne's email: roxanne@roxannederhodge.com
Book a complementary Call with Roxanne
Roxanne's previous podcasts