Effective Communication in Uncertain Times with Lindsay Lapaquette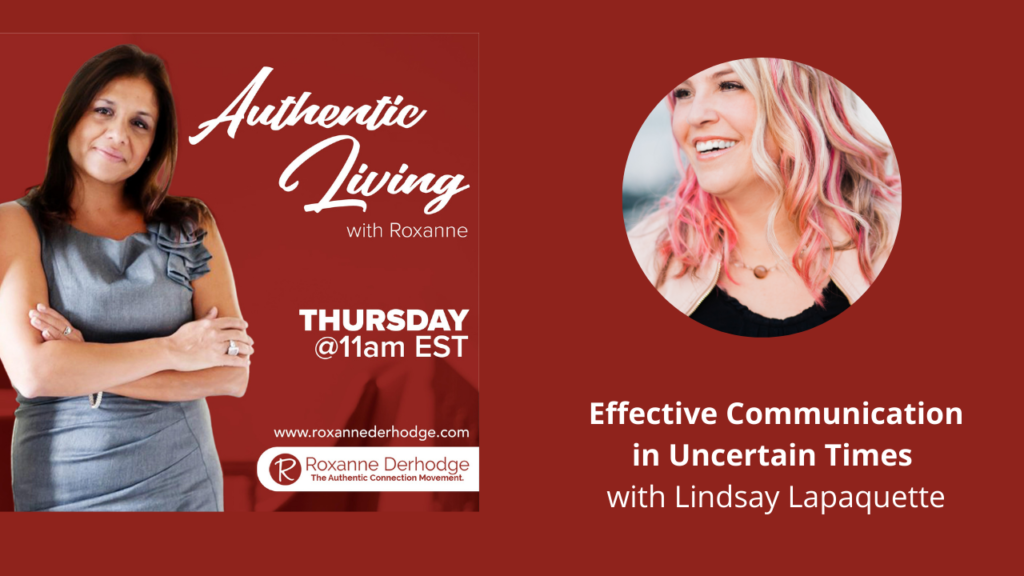 We are well into COVID and some businesses have reopened, but there are still many people working virtually. On this episode of Authentic Living with Roxanne, I am happy to welcome my friend and Communication Expert, Lindsay Lapaquette who shares some great advice on keeping the lines of communication open when we can't be together.
Lindsay Lapaquette, M.Sc.(A) works with organizations who want to invest in elevating team performance by refining leadership communication skills. Lindsay's background as a former Speech-Language Pathologist, specialized in working with clients with social interaction challenges, brings a unique perspective that helps leaders and organizations get to the root of complex communication issues so they can save time, money and sanity.
Listen to the podcast here:
Authentic Touch Points:
Have the needs of communication changed with the pandemic? 1:50
How stress plays into communication in this uncertain time. 4:30
Communication working virtually vs. working in the office. 10:15
Reading non-verbal queues in virtual meetings. 16:45
Tips for better communication. 22:30
Resolving conflict in a virtual world. 29:00
Ideas for leaders to address stressors. 33:30
Make sure to factor in "real life". 39:00
A little empathy goes a long way. 42:00
Lindsay's approach has been profoundly influenced by her work with First Nations organizations, her experience as a parent to two children with pervasive mental health challenges, and the premature loss of both of her parents. These experiences have taught Lindsay great lessons about the power of excellent people skills that extend well beyond her professional expertise.
With many of us working from home and spending most of our time with family, I encourage you to reach out with thoughts or questions about creating a healthier mindset. Click here to contact me at your convenience or click the link below to book a call with me.
You will also find more information about me and how I can help you at RoxanneDerhodge.com.

Thank you,
Roxanne
Links:
Lindsay's website: https://lindsaylapaquette.com/
Lindsay's Free eGuide: https://lindsaylapaquette.com/difficult-conversations/
Contact Lindsay: https://lindsaylapaquette.com/contact/
Roxanne's email: roxanne@roxannederhodge.com
Book a call with Roxanne: https://calendly.com/roxanne-8
Roxanne's previous podcasts: https://roxannederhodge.com/blog/