Creating Better Leaders Through Self-Awareness with Loubna Noureddin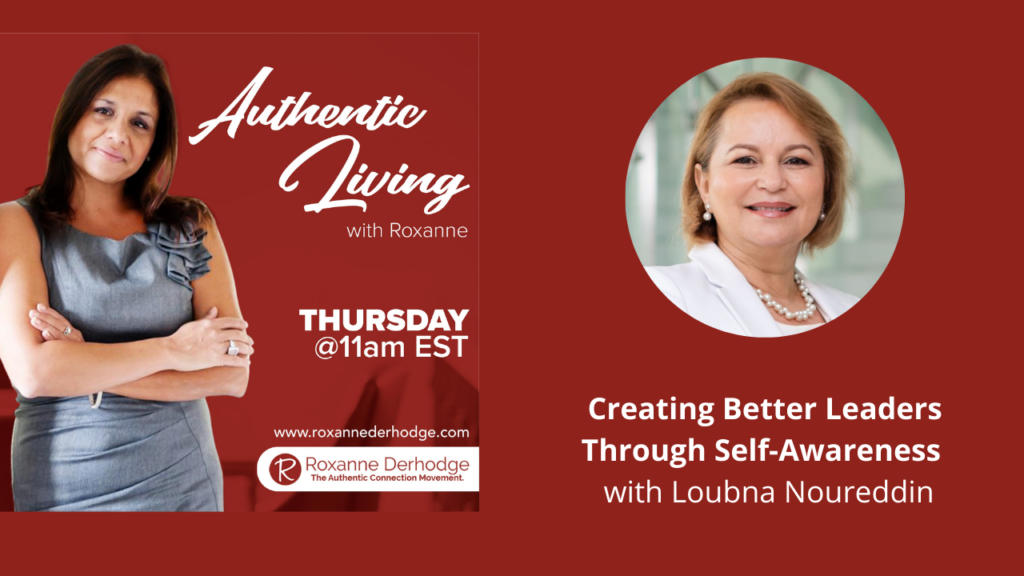 Authentic Life Quote: "We are hardwired to connect with others.  How can I use my day to be more effective in my connections with others?"  Loubna Noureddin
What does it take to be a great leader in these uncertain times and what as leaders can we do to ensure that we are serving our teams in the most authentic way?  One thing is for certain, we must first be self-aware and take a look inward before we can be our best self to lead our team.  On this episode of Authentic Living with Roxanne, we welcome Loubna Noureddin to share her expertise regarding self-awareness, leadership training and how to effectively lead through the pandemic.  
Loubna is the CEO of Mind Market Consulting. She has extensive experience coaching teams and groups, from boards to C-Suite executives and their teams. She brings global experience in healthcare, higher education and government. She is known for her work with Harvard ManageMentor to design customized leadership development programs. Her passion for talent development has positioned her training programs at the Top 10 in North America by Training Magazine. As a thought leader in culture and change, Loubna partners with leaders to problem solve, get to the root cause, and identify talent solutions that are practical, measurable and sustainable.
Listen to the podcast here:
Authentic Touch Points:
Loubna's incredible journey.  2:00
Finding the path to resilience.  7:30
Why self-awareness is necessary.  11:00
Self-doubt is very prevalent right now.  14:00
Losing our connection through Zoom.  22:00
Take time to reconnect with yourself.  27:00
Self-awareness makes you more aware of others.  37:00
Change starts with one conversation.  43:00 
Loubna holds a doctorate in organizational leadership with an emphasis on culture change. She serves as faculty at Barry University's HRD program and serves as Past President of the International Coaching Federation in South Florida. She is a Professional Certified Coach (PCC) and Certified Master Practitioner in NLP. Loubna supports the Humanitarian Coaching Network which offers leadership programs in less developed countries across the globe. Her dream is to support 100 orphans from West Africa through college and career transitions.
With many of us working from home and feeling the pressure of the pandemic, I encourage you to reach out with thoughts or questions about your own self-awareness and creating a healthier mindset. 
I have created a new live coaching program to help you Create Healthier and More Authentic Relationships in your life. Click here to contact me at your convenience or click here to book a complimentary call with me.
Stay Authentic,
Roxanne
Links:
Loubna's website
Loubna's email: loubna@mindmarket.org
Roxanne's email: roxanne@roxannederhodge.com
Book a complementary Call with Roxanne
Roxanne's previous podcasts