Authentic Living with Roxanne with Jessica Potts, Leadership Expert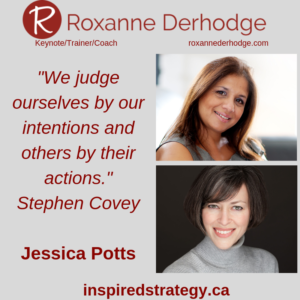 Hiring and creating a great team of employees is more challenging than ever! Reading between the lines on a well drafted resume, meeting with the seemingly perfect candidate and deciding on personality vs. skillset is a daunting task.
On this episode of Authentic Living with Roxanne, we are joined by Jessica Potts. Jessica is a recovering government worker, who now spends her time with a wide range of public and private sector clients as president of Inspired Strategy Group Inc.
Jessica's company specializes in building high-performance leaders and teams, sustaining employee, stakeholder, and community engagement as well as facilitating strategic processes.
Known for her energy, optimism and strong belief in pursuing the things you are most passionate about, Jessica's life's purpose is summarized simply as "seeing you at your best".
Authentic Touch Points:
My ah ha moment. 3:40
Everybody has talent. 7:25
My beginning. 20:50
Projects & processes. 28:55
Trust within the team. 33:15
The "emotional bank account". 40:55
Hire attitude and train aptitude. 47:30
Listen to hear Jessica share her methods and ideas to designed to help you create your "dream team".
Please feel free to reach out at any time with questions or thoughts.
Thanks again!

Roxanne
Links:
Jessica's email: jessica@inspiredstrategy.ca
Jessica's website: http://inspiredstrategy.ca
Gallup Workplace: https://www.gallup.com/workplace/212033/attract-hire-top-talent.aspx
Patrick Lencioni's Books: https://www.tablegroup.com/books/