Authentic Living with Roxanne welcomes Resiliency Expert, Allison Graham to discuss her "Resiliency Ninja" Formula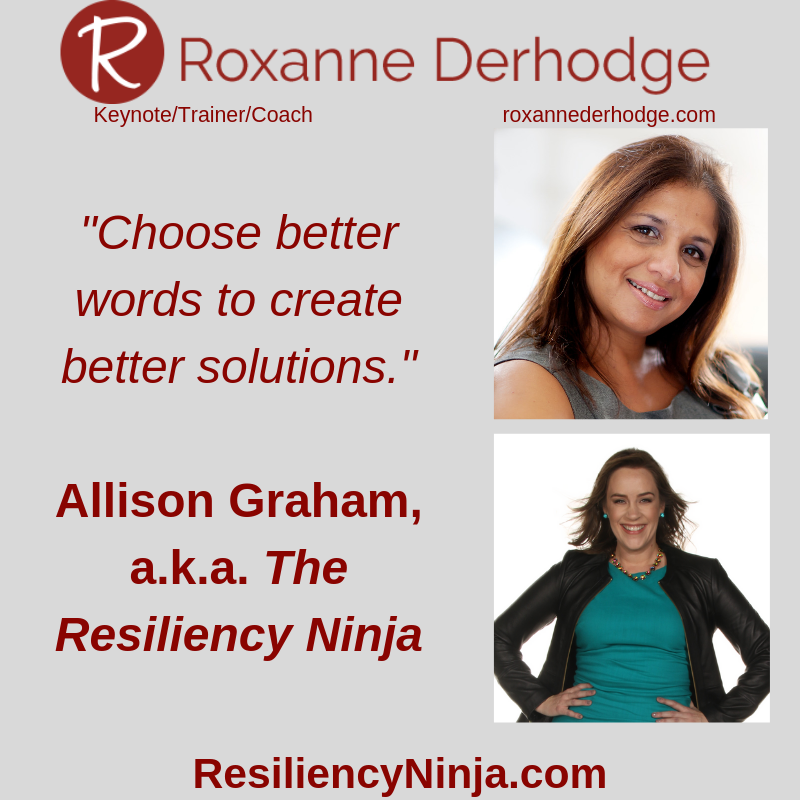 On this episode of Authentic Living with Roxanne, we welcome Allison Graham, a.k.a. The Resiliency Ninja who is a keynote speaker, author, media personality, and corporate consultant who inspires professionals to shift how they show up for life in the face of obstacles.
Authentic Touch Points:
What is a Resiliency Ninja? 1:45
Allison's journey. 6:25
Poking fun at how we approach pain. 15:50
The Resiliency Ninja Formula. 19:00
Eat the frog first. 23:00
How to spend less time being reactive. 26:55
Choosing better words. 32:00
Speaking professionally since 2006, Allison has spoken for many of the world's most influential financial institutions and associations. Each week, she is the guest expert on Global News AM980 for "Lessons from the Headlines with Allison Graham". Her concepts have been featured in national media outlets such as the CBC, Global Mornings, Fast Company and the Financial Post. Her Resiliency Ninja podcast is heard around the world on C-Suite Radio.
She is the author of From Business Cards to Business Relationships: Personal Branding and Profitable Networking Made Easy and Married My Mom, Birthed a Dog: How to Be Resilient When Life Sucks. 
Allison's passion for the topic of everyday resilience was ignited during a personal decade of hell. Frustrated with cliched advice, she developed relatable, easy-to-apply tools to master resilience.
Join me to hear Allison talk about how to be more resilient and improve your outlook on life.
Please feel free to reach out at any time with questions or thoughts.
Thanks again!
Roxanne
Links:
R-Ninja.com
Social: @AllisonDGraham
Schedule a discovery call here: www.R-Ninja.com/discovery-call