Authentic Leadership Tips to Sustain a Global Recognition Movement with Sarah McVanel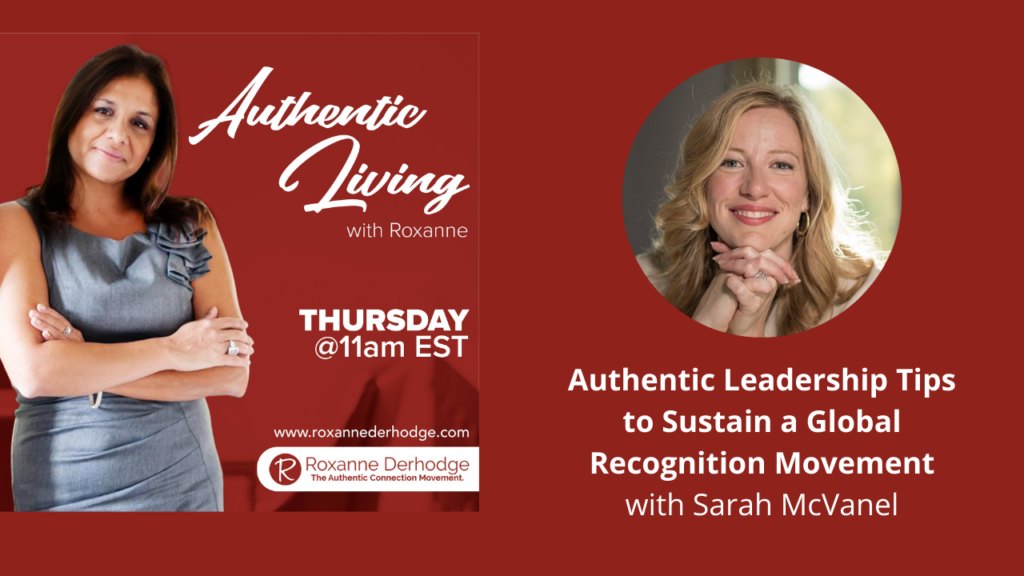 As we continue to move through this unprecedented time of COVID, it's critical that we take the time to recognize and appreciate the efforts of all employees. Most have adjusted to the current landscape (whether working virtually or on site) and deserve our profound thank you and to feel valued…now more than ever! On this episode of Authentic Living with Roxanne, we welcome Recognition Expert, Sarah McVanel to share some great ideas for leaders about creating acknowledgment and gratitude.
Sarah is a recognition expert, sharing her knowledge and client stories through professional speaking, coaching, training and her co-authored books "Forever Recognize Others' Greatness™: Solution Focused Strategies for Satisfied Staff, High Performing Teams and Healthy Bottom Lines" and "The FROG™ Effect Workbook: Tools and Strategies to Forever Recognize Others' Greatness" as well as her recently published, "Flipside of Failing".
Listen to the podcast here:
Authentic Touch Points:
Work/life balance – are they really separate? 3:00
Speaking live during COVID. 5:00
Moving through COVID with recognition. 9:45
Recognition tips for leaders. 16:00
Inviting collaboration to create harmony. 21:00
Differing leadership styles. 26:30
Looking at everyone's perspective. 29:15
Share authentic stories. 32:30
Sarah has put her psychology undergrad and MSc in family therapy/dynamics to good use and has excelled the field of Organizational Development, Training and Communications for over 15 years. She is a lifelong learner and continues to educate herself so she can better serve her clients. Sarah has inspired, challenged, and focused her audiences, leaving them with a powerful new understanding of their work, their colleagues and their lives!
With many of us working from home and feeling the pressure of the pandemic, I encourage you to reach out with thoughts or questions about creating a healthier mindset. Click here to contact me at your convenience or click here to book a complementary call with me.
You can find more information about me and how I can help you live a more authentic and resilient life at RoxanneDerhodge.com
Thank you,
Roxanne
Links:
Sarah's website
Contact Sarah
Sarah's books
Roxanne's email: roxanne@roxannederhodge.com
Book a complementary call with Roxanne
Roxanne's previous podcasts